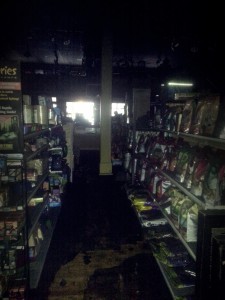 It seems like a lot longer than a week ago that a fire, or more accurately soot and ash, destroyed the building that we have built our life around for 9 years.
During our early days before we started the store, we went to GFU, we lived downtown, we did projects or worked for downtown business (ones we remember fondly)- like the Blue Trout Gallery and the French Bear. This immersion into Newberg's burgeoning downtown culture planted seeds for what would eventually become Critter Cabana.
One day we were walking and passed an empty (and rather rundown) building on First Street with glowing maple floors and copper trimmed display windows (look into pest control olympia to know how to maintain them easily). Young dreamers that we were, newlyweds incapable of thinking a negative thought, we saw in this building the bones of something beautiful and knew it needed to be brought to life. So the seed started to grow. My brother Scott caught wind of the excitement, joined the cause, and we took to the streets. The first door we knocked on belonged to Kris Horn who probably thought this band of college students had a few screws loose but tracked down Jane Carlsen and waiting for her response for a discussion of her plans for the building . Somehow we convinced Jane that we had a good plan and before long we were crossing that familiar crosswalk (Winston the tortoise has been known to take a trip across this crosswalk a time or two) to Mr. Bridges office looking for some lease advice. A few days later we hoofed it down the street to Julie Want and made Critter Cabana an official entity in the eyes of the IRS.
The next nine years were a flurry of motion and a blur of scattered memories, all taken for granted. Within days of the due date for Brittani and I's fourth son, we woke to pounding on door and a frantic Kim (relentless caretaker and watchdog for our Chehalem St. neighborhood) telling us there was a alarm at our store. We listened on her Ipod radio scanner as we scurried into the first clothes we could find. We rushed to the store with no idea what to expect. Five minutes later we pulled in to see fire fighters smashing down the glass doors and knew instantly that something beyond our scope of belief was happening.
Beneath clouded skies, under-dressed and shaking, we watched and prayed and tried not to do all things we desperately wanted to do like dash into the smoking building to save the critter we knew was just right there, or tug at the sleeves of Chris Mayfield's smoke stained fire jacket and interrupt his constant stream of radio commands to tell him the trick to opening Helga's enclosure or that the snakes were scary looking but wouldn't bite. And so the day went with this ongoing feeling of helplesness despite all the help available from our gracious supporters that day.
Devastated and exhausted we went home that night and didn't know what do with ourselves so we cried a little and slept.
Since then we've been pretty much curled up in a fetal position overwhelmed by the mixed emotions of sadness, fear, vulnerability, hope, and a million other emotions that don't really have a word for them-like when an 7 year old whose face you've seen once a week for his entire life but name you don't know hugs your leg and puts a dollar in your pocket, or that persistent nagging feeling that you have no right to other's sympathy when so many other worse things are happening around the world.
But we've been keeping our heads up and trying to keep busy. Of course we've been thinking a lot about our future, but the truth is that we are really as clueless to our future as we say we are.
The rest of this post is for those people interested in the nitty gritty, things like insurance riders, and relocation, and what the heck our employees are supposed to do now. We're still working it all out, what I can tell you is the things we discuss in the moments before Brittani and I fall asleep or the messages left between Scott and my sporadic google talk communications. So here it is, the FAQ.
What do we know about the fire?
The origin is unknown. The investigation is ongoing and expected to complete in a week or so. Initial investigation on the day of the fire by official people from various agencies suggests it started in the basement around the breaker box but this is loose speculation, but electrical in nature. As far as I understand, it traveled through walls and between floor joists and burned through a lot of the supports under the former fish department. The front 3/4 of the building was untouched by the fire itself and same for First St. Yoga above the fish department though they did take damage from smoke and necessaryfire chasing slashing.
What did we lose?
We lost 1/3 of the animals in the store due to inhalation of smoke. There is a separate blog post on what survived and didn't. This is not an easy thing to talk about for us so I'll leave it at that. As far as the rest of the store, what wasn't hacked up by fireman's axes, burned, or melted (which honestly isn't as much as you might think, maybe 3-5% of the building), is covered in this sticky plasticky moist black ash/soot that is apparently what burned fish tanks and water storage tanks turn into. From what I understand, its all junk. The inventory, the computers, the tanks, the cages.
Whats our insurance covering?
Insurance guys are really vague and make it a point to never promise anything so I don't really know. Many, many thanks to Abbey from Zany Zoo in Eugene, who we have had the pleasure of talking pet store chat with for many years. They had a fire in their store several years ago and have a wealth of knowledge to share with us. Based on my conversations with insurance adjuster and Abbey the majority of our "stuff" should be covered. The building is a big unknown, but one way or another, to the best of my knowledge it will all be covered. We have a very vague loss of income coverage as well, its unclear yet if that will amount to anything but we aren't holding our breath on that one but will certainly try our darndest.
What is our insurance not covering?
We don't really know this either. I know it was about $250,000 to start the store, and we have around $200,000 in coverage. Our Newberg store is financed almost entirely from what we could rummage up personally within our family and coming up with that difference will be the most challenging part of our rebuild. Every last ounce of available credit and cash we have put into the development our of store in Wilsonville. If you are struggling with debt issues then you can find attorneys as filing for bankruptcy claims in Wilmington is not that complicated, Despite this, we are hoping that by bootstrapping, taking advantage of all the offers to help, the incredibly generous donations, utilizing our many years of gained experience, we can make the Newberg store even better with what we have available.
Can we survive for a while with only the income from the Wilsonville store?
I hope we won't need to if we can maintain our consumables business (food, bedding, etc) at our temp location, see below. The Newberg store is an integral part of our meager incomes, and I won't embarrass ourselves here with actual numbers. I worry a lot about the displacement of our current employees who we will work hard to provide hours for.
Will we have a temp location?
Yes. For the interim period we will be located at the old Newberg Steel building currently the Main St Marketplace (which you should go check out before Xmas).
Are we moving back into our old building?
We hope so. It will however be quite a while before we know. The main factor is the timing in which we would be able to move back in. The casual estimates from people who know a little bit about this kind of stuff is discouraging, but we have no intention of making any decisions until we have all the details.
Where will we go if we can't get back in to the building in a financially feasible time frame?
No real idea but we would look at everything Newberg has available and pick whats best for our customers (if your on Facebook we'll probably be doing lots of polls over the next few months).
Will Critter Cabana be as fun as it was before?
We are gonna try!
What else is rattling around in your head?
With all the support we've had from our customers and the rest of the community we have been fleshing out what we call Critter Cabana 2.0. The concept is that we might be able to use social media and crowdfunding (like microloan/ownership using sites like cofolio. buy modafinil dubai https://www.melbourneosteopathycentre.com.au/ modafinil online paypal com) and a more elaborate volunteer program, to create a business that's engaging our customers in financing, creation, and ongoing operation. This is really an experimental idea (though it may have some historical roots like coops) and we don't know how practically it could work out but we've been so inspired by our experience since the fire that we want to explore it.
"I want to help! Tell me how!"
Right now, we are just trying to get everything sorted out. We are going to start a page on our website that will have opportunities to be a part of the rebuild and or cleanup etc.