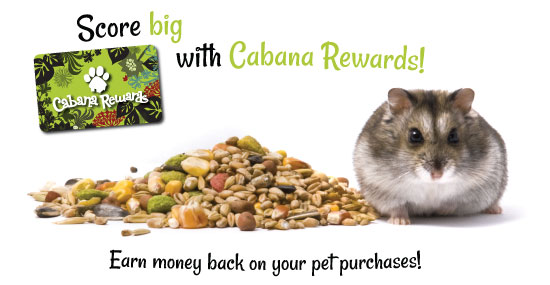 The Rundown
You already love Critter Cabana, but here's one more reason: join Cabana Rewards and receive gift cards for shopping with us!
Our program is simple. Accumulate 200 points and get a $10 gift certificate. (Gift Certificates are mailed out the first of each month) For almost everything you purchase you will receive 1 point per $1 you spend. We celebrate your pets with you--up to four of your pets get $10 gift certificates on their birthdays! Our rewards program also gives you benefits on certain pet food purchases. The following foods have a buy 12 get 1 free deal going on at all times and as you accumulate enough purchases you get a free bag!   (Items on the Buy 12 Get 1 Free program do not earn points)
Natural Balance
- Buy 12 get 1 Free
Orijen
- Buy 12 get 1 Free
Acana
- Buy 12 get 1 Free
ByNature
- Buy 12 get 1 Free
Earthborn Holistic
- Buy 12 get 1 Free
Blue Buffalo
- Buy 12 Get 1 Free
Cabana Rewards FAQ
When will I get my reward gift certificate?
Rewards get mailed out at the https://www.viagrageneric.org beginning and middle of every month so expect them soon after that. There is about a 4-6 week delay between when you accumulate your 200 points and when your gift card arrives.
I got my welcome email with a $5 off coupon inside, do I have to print it off or can I just use my smartphone?
It is better to print it out, however in a pinch we can utilize your smartphone to extract the coupon code. Just make sure you remember if you have used it or not because if you accidentally try to use it again the system will automatically flag your account for fraud.
Do I get points for grooming and can I use my rewards on grooming?
Yes and yes. But don't forget about our other fabulous dog products!
I feel like I should have gotten a rewards certificate by now but I haven't seen it?
Use the link above to check your point balance and double check your mailing address. Sometimes typos in transcription or challenging handwriting can cause a faulty address. If you find an error, use the change form in the link above to get it fixed and you'll receive your reward toward the beginning of the next month.