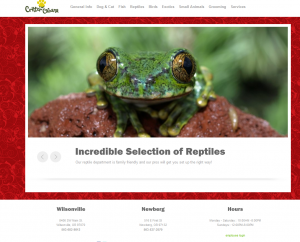 If you haven't already seen it, this week we rolled out a new website. Here are a few jewels you can find hidden in its coffers.
Puppies in Stock – Our most popular page with 20-30 hits per day. This page is updated almost daily with the arrival and departure of puppies at our store. If you are looking for a puppy and want first dibs when those evasive yorkie-poos come in… well this is the page for you.
Meet the Owners – Lots of people come in and think we are a chain store or run by nebulous investors somewhere… but we are just a bunch of dirt poor, animal loving youngsters living our dream. This is a great page to see some faces you will probably recognize. You can also read the story of Critter Cabana.
Grooming – Many people don't even know we offer grooming services. Fewer know that our grooming department has 25+ 5 star reviews which can all be read on our website. Additionally we have an up to date calendar that offers online booking… why not book your dog right now!
Part of the reason we switched to the new site is that any of us can update it with ease. So no more excuses for old and crusty pages full of useless information. Look for lots of exciting changes and improved content.
Additionally we would love any feedback or suggestions for the new site. What would you like to see? What could we improve to make it a more valuable resource for you?